Bed and breakfast and cottages in the Auray region
Come and discover the Manor of Guern, an old building dating from the 16th century, which was a presbytery for two centuries from 1730 to 1930. Lovers of old stones, we fell under the charm of this unusual place.
We wanted to bring back to life this place which had been abandoned. The challenge of the renovation work was to give the house back all its beauty without losing its authenticity.
The noble materials used for the restoration such as lime hemp, old floor tiles, lime coating, whitewash, old woodwork will make you enter a warm and authentic universe.
We hope to be able to help you discover this exceptional place and to pass on to you some of the love and attachment we have for this magical place and the region in which it is located.
Charming guest house : Stay at the manor of Guern
Surrounded by water, the manor is a real haven of peace thanks to the moat that encircles the buildings. Each of our four guest rooms: Saint Goustan, Étel, Nostang and Sainte Barbe have a privileged view of the orchard, the moat and the surrounding countryside.
The decoration of the rooms combines charm, authenticity and sobriety which will plunge you into a romantic and relaxing atmosphere.
Each room has its own character, so it is up to you to choose the one that suits you best.
In the manor, you can enjoy a large and bright dining room that opens directly onto a huge terrace. You can choose to have your breakfast outside while enjoying the orchard, or in peace and quiet in front of our cosy fireplace.
If you want to enchant us and play some tunes, a piano is at your disposal. Feel free to browse through some books or guides about the region. All the books in our library are waiting for you.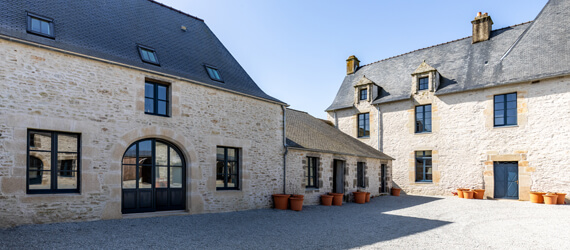 The manor is a family home and we hope that you will feel at home here. If you would like to be more independent, you can choose from our two charming cottages. Choose between the cottage le Bono with its direct access to the swimming pool and sauna area or the cottage l'Erdeven with its private terrace overlooking the moat.
Please note that the moat is not secure and can be dangerous for children who cannot swim.
Former presbytery of Pluvigner, discover the history of the manor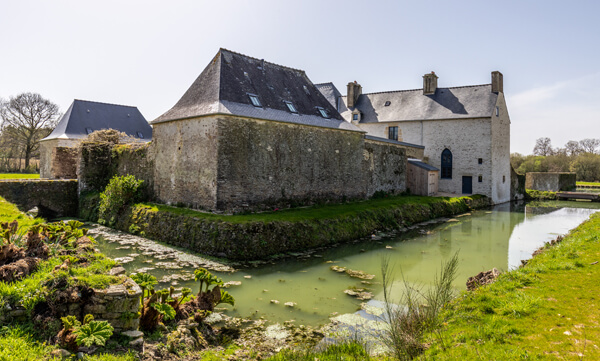 Thanks to the association "Pluvigner Patrimoines" which you can contact at the following address : pluvigner-patrimoines@orange.fr
You will find below a text written by Daniel Carré which appeared in the parish bulletin of Pluvigner and which relates in the form of episodes the history of the manor of Guern when it was the presbytery of the commune.
And for lovers of old historical documents, a PDF with some of the documents discovered by the association in the archives of Vannes and those of the presbytery.
Enjoy reading it!